25 November 2013
Just a standard striker's tackle according to Roberto Martinez...
24 April 2013

George Best, Eric Cantona, Paul Gascoigne, Rudi Voller. There have been plenty of wonderful players to have graced the game whose misdemeanours will live as long in the memory as their talent.
From glorious free-kicks and delicate chips to soaring saliva and plastic breasts, football has never been predictable.
And now there is someone else sinking their teeth into the sport's controversial side. For the last three years there has been no keeping Uruguayan enigma
Luis Suarez out of the lime-light
. 
28 February 2013

As the calendar flicks over towards March, everyone involved in football starts to get that tingling feeling as the Premier League season starts to unfold. As managers start to feel the pressure, every game starts to take on greater significance.
Over the last twenty years the Premier League has seen many thrilling finishes, from West Brom's great escape when the last day saw four teams fight it out for one survival spot, to last year's stunning title victory for Manchester City over city rivals United on goal difference.


Posted by JedGore
at 11:22 pm
No comments:

Labels: Arsenal, Chelsea, Everton, Football, Liverpool, Manchester City, Manchester United, Premier League, Premier League Predictor, Reading, Sir Alex Ferguson, Swansea City, Tottenham Hotspur, Wigan Athletic
20 February 2013
Seven-and-a-half years ago Arsenal defeated Manchester United in a penalty shoot-out to win their fifth trophy in five years. The year before they had gone a whole Premier League season unbeaten and boasted a host of top players such as Thierry Henry, Robert Pires, Freddie Ljungberg, Sol Campbell and Patrick Vieira.
Now their best player is undoubtedly a raw young talent in the form of Jack Wilshere, but with the side in disarray it is unlikely it will be long before he follows Henry, Cesc Fabregas and Samir Nasri out of The Emirates.
Although their last 16 Champions League tie with Bayern Munich is far from over, it is almost impossible to see Arsenal winning either 4-2 or by three goals in the Allianz Arena. Bayern are even stronger than when they reached the final last season and haven't lost since it was confirmed that Pep Guardiola would be taking over in the summer.
It is not as though the Gunners have been a poor side since they won the FA Cup in 2005. In that time they have not finished outside the top four of the Premier League and have reached the League Cup final twice, losing 2-1 to Chelsea in 2007 and 2-1 to Birmingham City in 2011.
Despite those efforts, their best achievement was reaching the Champions League final in 2006 when they went down 2-1 to Barcelona after having goalkeeper Jens Lehmann sent off. They could count themselves quite unlucky in that match and probably expected many more European finals to follow over the coming years, although those hopes have not materialized. It will be a shock to many that Arsenal have never won the Champions League under Arsene Wenger, in fact they have not been crowned champions of Europe in their history.
Even though that sounds like a poor record for a club of their size, they are the only British team to have reached the last 16/second group stage every year this century.
Arsenal in the Champions League under Arsene Wenger

Group stage

2

Last 16/Second group stage

6

Quarter-finals

4

Semi-finals

1

Final

1

Since the first two times that they played with Europe's elite under Wenger, when they were knocked out in the group stages both times, Arsenal have since sealed their place as one of the continent's best, although they are desperate to be crowned champions.
At this rate even being in the Champions League next year will take a huge effort in itself.
This season has been another disappointing one for the North London club so far.
They sit in fifth place in the Premier League table, four points behind rivals Tottenham Hotspur who occupy the final Champions League spot. After this latest defeat, coupled with their shock FA Cup loss to Championship side Blackburn, and their season looks destined to be another fruitless one.
For a couple of years now there have been sections of Arsenal's over-paying fans that believe Wenger's time has passed. Fail to seal Champions League qualification at the end of the season and the board might lose patience and agree with them.

However Wenger has been one of the club's greatest ever managers, in the last 17 seasons he has provided three Premier League titles and four FA Cups and countless near misses. What he has also managed is to transform Arsenal from an inconsistent side to a side that always challenges in the higher echelons of the table.

He has also not been backed tremendously by the board in recent years. The signings of Santi Cazorla, Olivier Giroud and Lukas Podolski were big buys, but not bank-breakers by any stretch of the imagination and were never going to win Arsenal the Premier League or Champions League. So who can blame him for trusting in youth? It is all he can really do.

The defence is clearly shaky, but that is as much down to the players' concentration as it is the manager's organisational skills. Despite his unbelievable record though, it would not be surprising in the modern day football cut and thrust culture, if Wenger was shown the door if the Gunners finish outside the top four.
Whatever happens, Arsenal supporters appear to be witnessing their club fall in a similar, although not as dramatic, way to how Liverpool, Champions League regulars not so long ago, fell from Premier League favourites in 2009 to eighth place last year.
Although Wenger's men seem to only be suffering a slight slide at the moment, it appears that the slide will become a full-on crash in the near future.
11 November 2012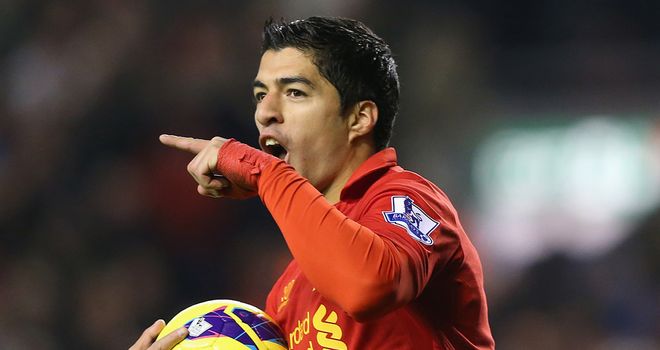 Chelsea and Liverpool fought out a competitive 1-1 at Stamford Bridge after Luis Suarez netted his 11th of the season to equalise John Terry's opener.

The back post header from a Jamie Carragher flick-on made Suarez just the fifth Reds player to score in four consecutive Premier League away games and the first since Steven Gerrard in 2009.
He was largely kept at bay in a quiet first half performance but burst into life after the break and showed why his manager Brendan Rodgers has likened him to Lionel Messi recently. His link-up play and the threat that he posed were Chelsea's main problems as they failed to hold onto a lead for the second successive week.
Rodgers introduced Suso in the 60th minute, replacing Nuri Sahin, as the away team switched from a 5-3-2 formation to a 5-1-3-1 set-up. Joe Allen sat deep with Raheem Sterling, Gerrard and Suso supporting star-man Suarez.
For much of the campaign Liverpool have enjoyed plenty of possession but offered little threat apart from through Suarez. It was much of the same in the first half as Rodgers' men kept the ball for long periods but never looked like creating anything of note.
On the other hand Chelsea created a number of chances and it was returning skipper John Terry who escaped the attentions of Daniel Agger to power in a header. It was his 50th goal for the London club, 29 of which have in the Premier League, 20 of which have been headers. The former England captain had to be substituted just 16 minutes later after an accidental collision with Suarez.
Oscar missed a glorious opportunity to give Chelsea the lead early on and Juan Mata fired over on the stroke of half-time with just goalkeeper Brad Jones to beat. Early in the second half Jones was called into action as he reacted well to stop a Fernando Torres header.
Suso's introduction sparked Liverpool into life and after the equaliser had they the better chances to win the game. Jose Enrique, who had an excellent game at left wing-back, put Suarez through on goal only for Petr Cech to deny the striker.
It was the Spanish defender who had the last chance in the final minute of injury-time, but his low shot was turned away by Cech.
Rodgers credited the way his team came back in the second half: "I thought in the first half we were too tentative. Second half our attitude in the game was much better and we are better when we play fast football.
"Coming here is a very difficult place. I thought it was a great point for us. You have to give credit to the players, they were fantastic.
"Whatever system you have, it doesn't matter, it is about the application and the quality of the players."
Chelsea will be disappointed that they didn't see the game out and now sit three points behind league leaders Manchester United, while Liverpool will be delighted with a draw that extends their unbeaten league run to six matches.
Statistics from Infostrada Sports: http://infostradalive.com/
16 October 2012
By Josh Bradley:
http://bradleysbettingblog.wordpress.com
https://twitter.com/JoshBradley10
On June 16th 2004, Liverpool finally got their man as the then Valencia manager Rafael Benitez signed on the dotted line and took charge of the reds.
His career at Valencia brought much success, as he managed to win La Liga twice as well as bringing the Uefa Cup back to the Mestalla in his three year career at the club. This created much hype around the Spaniard and he was welcomed on Merseyside with open arms.
The man from Madrid managed to live up to the expectation as he endured a successful six-year stint on Merseyside in which he managed to deliver a Champions League winners and runners up medal, an FA Cup winners medal and Liverpool's highest league finish in many years, when finishing four points off winners Manchester United in second place.
He will be forever remembered for 'that night' in Istanbul when he brought home Liverpool's fifth Champions League trophy in incredible fashion, clawing back a 3-0 deficit after half-time.
His transfer dealings as he racked up just under £229 million's worth of spending, but when you look back over the years, he was possibly the shrewdest man to work in the transfer market. He managed to convince some of Europe's top names to grace Anfield, the likes of Fernando Torres, Xabi Alonso and Javier Mascherano as he created one of the strongest Liverpool teams of the modern era. Of course he made some mistakes (pretty big ones..) such as signing Robbie Keane for £19m before not really giving him a chance and shipping him back out to Spurs within a year for a fraction of the price, as-well as bringing in 'the new Thierry Henry' Ryan Babel for £11.5m. But everyone makes mistakes, and Rafa's were very few and far between.
His man management was brilliant and he brought an attacking style of play to Liverpool which excited the fans, and managed to adopt the football he played at Valencia into the Premier League, whilst still dominating in Europe thanks to the likes of Luis Garcia and Djibril Cisse.
He left with his head held high in 2010, and for many, the Benitez era was well and truly over. But little would they know, it would take to this season to really begin to shine, without many even realising.
Brendan Rodgers has gained many fans across the country for giving many members of his youth squad a chance in the first team, without people actually realising where he acquired the players from.
Raheem Sterling, Suso and Jonjo Shelvey have been three of the revelations of the season at Anfield after putting in a string of impressive performances pushing them into first-team regulars. All three of these were brought to the club by Benitez when he was still at the helm.
He signed Sterling in February 2010 from QPR, when he was only 15, for an initial fee of £600,000, which could rise to £5 million depending on how many appearances he makes for the first-team. This was risky business and many thought splashing out such big cash on a 15 year old was crazy, but now we are beginning to see just how good Rafa was at spotting talent.
This is seen in it's strongest case by the signing and nurturing of Suso. "Rafa phoned me and convinced me to leave Cadiz CF. When he left us and Hodgson came in, everything was totally the opposite," Suso stated. He allowed him the chance to learn from older players in the reserves without rushing him into the first team, and wasting his talent. The 18 year-old has shone over the past couple of years in the reserves with many commenting on his magnificent technical ability and vision. We must all be thankful for Rodgers giving him a chance in the first team, but we must not forget just how important Benitez was in initially signing Suso and then keeping him at the club.
Shelvey is arguably the pick of the bunch as the ex-Charlton man has come into his own, and is now challenging the skipper for a place in attacking midfield. When Liverpool splashed the cash on Joe Allen and signed the Welshman for £15m, the majority felt it was the end for Shelvey at Liverpool, but he has performed with great credit when given the chance and showed his passion and desire to fight for a place at the club. Benitez spoke extremely highly of Jonjo when he paid the £1.7m for him back when he was 16.
"Players who could feel what Liverpool means. Shelvey is one of these and we have two or three names ready so we will try to do the best for the club.
"We have this long-term plan in place and we will try to follow the plan."
These are only a few of the players that we can thank Rafa for that our now in the main squad. Pepe Reina was a £6m purchase from Villareal, which has turned out to be a steal, as he's developed into one of the most consistent Goalkeepers in the world.
Martin Kelly has developed into a promising talent and looks set to be challenging for a place in the first-team when he returns from injury. Benitez gave Kelly his debut in 2008 and stated he thought Kelly could be in contention to be first-choice centre-back after the departure of Sami Hyypia. He has usually been deployed as a right-back due to his pace and ability with the ball, but could easily slot back in to a centre-back role if Brendan feels he's suited.
But finally, one of the most important things Rafael Benitez ever did in his six-year stint at Liverpool occurred in the first month. When the man from Madrid arrived at the club Steven Gerrard's future was in doubt, but the decision for the former Valencia manager to fly out to Portugal whilst Gerrard was competing in the Euro's proved to be a shrewd one. He had a lengthy discussion with Gerrard about the direction the position the club was going in, and why he should stay at the club. This was a major factor in the skippers decision to stay, as he had previously stated he was 'unhappy with the progress the club was making', but a few words of wisdom from Benitez instilled the confidence in Gerrard the club was going in the right direction.
Without this, Gerrard could well be playing at Stamford Bridge alongside another Benitez master-stroke Fernando Torres. Instead he is still captaining his childhood club and gracing the Anfield turf every weekend, which in turn is still key in attracting big names to the club.
So when you are thanking Brendan for giving the opportunities to the youngsters, allow a small appreciation for a certain Mr Benitez for allowing the team to take the shape it does today. Benitez' best work at Liverpool, may still yet to have occurred.
27 September 2012
By Joseph Chapman:
https://twitter.com/jcwba16
A youthful Liverpool side secured their first domestic win of the season after seeing off West Brom at the Hawthorns, to successfully begin the retention of their title.
Dani Pacheco, Jordan Henderson and Stewart Downing all started the game alongside youngsters Yesil, Assaidi and Nuri Sahin, on loan from Real Madrid. Brad Jones deputised for the regular Pepe Reina in goal, while Jamie Carragher was recalled to the heart of defence. Martin Skrtel, Luis Suarez and Steven Gerrard were all rested.
The Baggies made fewer changes, Gabriel Tamas and George Thorne replacing Gareth McAuley and Claudio Yacob, who both dropped to the bench. Markus Rosenberg made his full debut, while Yassine El Ghanassy appeared amongst the subs.
And it was the home side who struck first. Liverpool's excellent following could be forgiven for thinking it was going to be another bad day at the office, as Tamas drove a low shot home from close range after Brad Jones fumbled a Liam Ridgewell free-kick.
However the young Mersey boys were clearly not aware of the pressure that their historic club were under, as from the equaliser onwards, they were in control of the rest of the half.
Not a lot was considered to be on for Nuri Sahin on the edge of the area, but the young Turk's speculative effort was allowed to squirm into the net, after an uncharacteristic mistake from Ben Foster.
Ridgewell was soon to be forced off with an injury, which saw Craig Dawson come on and meant the Albion defence had to reshuffle. This saw Dawson taking the right back position, while Billy Jones moved over to left back.
The width offered by Downing and Assaidi caused havoc, as they took advantage of Dawson and Jones' unfamiliarity with their positions.
However towards the end of the half, the Baggies came again, a shot from Mulumbu and a wicked free kick from Dorrans testing the Red's defensive resolve.
The second half saw complete dominance from the title defenders, albeit with the Baggies having chances to regain the lead along the way. Yesil had a dipping effort pushed away by Foster, while a fantastic curling shot from Pacheco brushed against the bar.
Down the other end, the bright Lukaku took one touch too many, otherwise a shot was on. Marc Antoine Fortune was persistent and his hold up play did not go unnoticed. Rosenberg, who was otherwise disappointing, showed strength when taking the ball to the byline, but the ball was claimed by Jones. Long replaced Lukaku, but it was in the Liverpool substitutions where there was more interest. Jerome Sinclair, alongside Suso, entered the fray and in doing so became the Red's youngest serving player at 16 years and 6 days.
This proved to be the catalyst for the winner, as Sahin netted his second to prevent extra time. Suso was allowed to run at the defence without a challenge, before spreading the ball wide to the impressive Assaidi. He in turn put the ball on a plate for Sahin to net, sending the multiple fans behind the goal into raptures.
Fortune nearly replied immediately, hitting the post from close range, but it is Liverpool who progress, as Rodgers faces his old club Swansea in the next round.
Ratings: WBA- Foster 5, Jones 6, Tamas 7, McAuley 6, Dawson 6, Ridgewell 5, Mulumbu 7, Thorne 6, Fortune 7, Rosenberg 5, Lukaku 6, Dorrans 6, Long 5, El Ghanassy n/a.
Liverpool: Jones 5, Robinson 7, Carragher 6, Coates 6, Wisdom 6, Sahin 8, Assaidi 7, Downing 6, Henderson 6, Pacheco 7, Yesil 7, Sinclair 5, Suso 6.
2 September 2012
Arsenal produced a disciplined and clinical display to comfortably beat Liverpool at Anfield. Goals from new signings Lukas Podolski and Santi Cazorla gave them their first three points of the season in a cagey game of few chances.
A year ago Liverpool travelled to the Emirates and beat an Arsenal side in transition 2-0 and this time it was the other way around as the Gunners disposed of a side lacking in creativity and menace. The game started slowly and besides a couple of Liverpool free-kicks that came to nothing there was little to suggest a goal was coming when Steven Gerrard needlessly gave the ball away deep in the Arsenal half. Podolski found Cazorla who turned into space before picking the perfect moment to slip the ball back to his team-mate, who in turn, duly slotted in to give his team a 31st minute lead.
Brendan Rodgers's Liverpool continued to press and push men forward but without much end product, the best moment a Raheem Sterling turn and shot that found the outside of the post. Arsenal could have doubled their lead before half-time but Olivier Giroud spurned a great chance when he shot wide when he should have done better.
Arsenal came out quickly in the second half and Reina was forced into a smart save from Cazorla. On 68 minutes Cazorla played a neat one-two with Podolski and burst into the left-hand side of the area before shooting low under Reina at the near-post.
A home come-back never looked like materialising and it was Arsene Wenger's men that nearly scored again when Giroud headed over when in acres of space. The only bright sparks for Rodgers was another virtuoso display by 17-year-old winger Raheem Sterling and a good late cameo by Jonjo Shelvey.
Arsenal answered many questions, especially to the people who thought that they could not score enough goals. Liverpool meanwhile just showed that letting Andy Carroll go to Upton Park leaves them with no Plan B and a lack of fire-power.
1 September 2012
There was plenty of optimism surrounding Anfield yesterday morning as manager Brendan Rodgers spoke of hopefully adding two new faces to his Liverpool squad. Eleven pm came and the Reds had loaned striker Andy Carroll to West Ham, 18 months after his predecessor Kenny Dalglish bought him for £35 million, and signed no one. Their clear weakness is their inability to consistently find the back of the net and it is clear that they need a proven goalscorer to boost their ranks.
Rodgers was clearly confident of bringing in forward Clint Dempsey from Fulham but Fenway Sports Group failed to produce the £7 million needed to bring him to Merseyside. A figure like that is relatively measly in this day and age and Tottenham snapped him up with glee. Reds fans must be bewildered as to how FSG could spend a combined £57.7 million on Carroll and Luis Suarez in January 2011 but not fork out a figure over £50 million less to bring in Dempsey, a player who the manager obviously wanted.
A new era has started at Anfield, people should not doubt that, but it is starting to dawn on the fans that it is going to take at least a few years before Liverpool can even dream of going to Champions League finals again. There is still plenty of world class talent at Rodgers's disposal in the form of Luis Suarez, Steven Gerrard and Daniel Agger.
Suarez is a special talent that needs to be enhanced into a special, prolific goalscoring talent. The amount of chances he creates is second to none, but his chance conversion rate is nothing short of dismal. One of the Northern Irish manager's biggest tasks over the coming months is to find the deadly finisher inside the Uruguayan that scored 50 goals in one season for Ajax and three goals in South Africa in the 2010 World Cup.
Rodgers also needs to get the best out of talismanic skipper Steven Gerrard, even if it is only for two or three more seasons. If he can score 10 to 15 goals this year it will make a huge difference to whether or not Liverpool can push for a top four spot.
The five-time European champions can still push for a Champions League spot but injuries must be few and far between as they have a squad that now features only 17 senior players. For a good campaign in all four competitions to come to fruition the Reds will need to have a good start to the season, and then boost the side in January. Rodgers kept his side of the bargain by offloading players and slashing wage bills, but FSG failed to keep theirs.
16 August 2012
A new season is upon us. On Saturday battle will resume between some of the best teams in world football in the sport's most exciting league. There is one debate that is raging up and down the country between all football fans; who will/can win this year's title? There is a number of teams who will feel that they can make a serious impact on the top third of the table but who can realistically set their hopes on winning the Premier League or claiming a Champions League place?
Manchester City
Last season's champions Manchester City will go into Saturday's opening fixture at home to newly-promoted Southampton as slight favourites to retain their crown. Last year they took control of the title race before Christmas with a 6-1 thrashing of neighbours Manchester United but then let it slip over February and March as the Red Devils opened up an eight point gap. This led to many questions being raised about the mental state and winning ability of Mancini and his expensively assembled squad. These doubts were quashed in some style as they came roaring back to win the Premiership on goal difference with two stoppage-time goals against QPR.
The resolve and fight that the Citizens showed last year proved many of their doubters wrong and they have the organisation and fire-power to win a second successive title. However they have not made any big-name additions to their staff-list this summer with only youngster Jack Rodwell arriving from Everton for £12 million. He is likely to be a largely peripheral figure this campaign as Mancini looks to the same big players to perform again.
This should not be a problem though as their defence looks as mean as ever with Joe Hart, Vincent Kompany, Joleon Lescott all fit and ready to go. Their one weakness at the back is a lack of a top-class back-up centre-back with the ageing Kolo Toure and the much-maligned Stefan Savic the only players ready to fill in. The midfield will definitely not struggle with plenty of strength in depth and world-class talent thanks to David Silva, Yaya Toure, James Milner, Adam Johnson, Nigel de Jong, Gareth Barry and Samir Nasri amongst others. The forward line will be as deadly as ever and will be hopeful of beating last season's massive tally of 93 goals scored. The strike-force of Sergio Aguero, Carlos Tevez, Edin Dzeko and Mario Balotelli will be feared by all of their opponents.
Player To Watch: Samir Nasri
After his big money move from top-four rivals Arsenal last year Samir Nasri found himself often having to be content with a place on the bench. This time around he may find himself in the starting eleven more often, as he did towards the back end of last season, and could flourish as he did at the Emirates in 2010/11.
Prediction: Champions by 4/5 points
Manchester United
In May Manchester United came agonisingly close to crowning Sir Alex Ferguson's 25th year in charge in style. This season the Old Trafford side will be out with a vengeance to settle a score with city rivals City and prove that they are England's number one club. Ferguson has not been overly busy in the transfer window but did seal the crucial £24 million signature of Dutch star striker Robin van Persie from Arsenal. After netting an impressive 89 goals last term they could do even better this time around if the 2011/12 two highest scorers Van Persie and Wayne Rooney can strike up a good combination.
The back five look solid if not spectacular but may struggle if they suffer a couple of injuries. David de Gea proved a lot of critics wrong in the second half of last season and should exceed expectations this term. Rio Ferdinand is older than he once was and has lost his pace but retains good positional play and reading of the game. Nemanja Vidic is crucial for United as last year he was injury-prone and struggled to get enough game time. If Sir Alex can keep him fit and on form then the Red Devils will have a much better chance of regaining the Premiership trophy. Evra is not the player he once was but remains an excellent left-back while Chris Smalling, Phil Jones and Jonny Evans could do well if given enough game time.
The midfield is their weak point. Scholes and Giggs are still both class footballers but are not what they were ten years ago. Anderson has failed to impress consistently while Tom Cleverley was out injured for much of last season but could do well. On the wings Ashley Young is always a threat, as is nani, but he is often guilty of drifting in and out of matches. Darren Fletcher played in a recent pre-season friendly with Aberdeen and will be a vital cog in the centre if he can keep fit.
Player To Watch: Michael Carrick
Unheralded centre midfielder Carrick will have a massive role to play in the oncoming campaign and his performances will have an impact on where United finish in the table. He played very well last season, especially in the first half when he had little support as Paul Scholes was retired. He looked good on his England return against Italy and should do excellently, maybe even grabbing a couple more goals than usual.
Prediction: Second
Arsenal
Wenger's men did well last season to come back from a dodgy start to take third place and with it the final Champions League spot from local rivals Tottenham Hotspur. The loss of top scorer Robin Van Persie will be felt around The Emirates but they have already brought in top quality replacements in Santi Carzola, Lukas Podolski and Olivier Giroud. They may take time to get used to the pace and ferocity of English football but all have good track records and can all score goals.
The midfield is decent but it would be a big blow if they were to lose Alexandre Song to Barcelona. Diaby is OK but nothing special, but Jack Wilshere's return is imminent and it will be interesting to see how he fares after more than a year out. Theo Walcott looked good in patches last year on the right wing and should be able to build on that in the coming months. Youngster Alex Oxlade-Chamberlain is a great prospect and coupled with Walcott on the other side, Arsenal may score quite a few goals from crosses this year.
The defence is their weakness as always, in particular from set-pieces. Goalkeeper Wojech Szczesny has matured into a top-class goalkeeper and Thomas Vermaelen is an excellent centre-back who has the added ability of scoring goals. Laurent Koscielny improved last season but isn't world class while Per Mertesacker has a severe lack of pace. The full-backs often look weak and although Kieran Gibbs and Bacary Sagna are useful, they are equally not great.
Player To Watch: Aaron Ramsey
Wales captain Ramsey played well sporadically last campaign but could do brilliantly this year, especially if Song is sold. That would give him plenty of first-team opportunities and he played well for Team GB in the centre of the park in the Olympics.
Prediction: Fourth/Fifth
Chelsea
After a very poor start under Portuguese boss Andre Villas-Boas the Blues picked themselves up under interim coach and former player Roberto di Matteo. It was not enough to finish in the top four but they did win a magnificent FA Cup and Champions League double. They have lost ageing, but talismanic striker Didier Drogba to Shanghai Shenhua after eight years of service but that may just work for the better as January 2010 £50 million signing Fernando Torres will finally have the centre stage.
Chelsea have the squad to push for the title but may come undone when push comes to shove as the majority of their players with plenty of Premier League experience are in the twilight of their careers. The likes of Frank Lampard, John Terry, Ashley Cole and Petr Cech still have a lot to give but there is excitement surrounding Stamford Bridge thanks to a host of fresh faces that were added this summer. Marko Marin, Oscar and Eden Hazard were all big money acquisitions and will add strength to a Chelsea strike-force that struggled last year.
The midfield and defence look as solid as ever with the likes of Michael Essien, Frank Lampard, Juan Mata, Terry, Cole and Cech ready and raring to go. Their are still doubts hovering over the head of defender David Luiz as his inept knack of conceding stupid fouls and penalties often get him and his side into trouble. Despite this he could find himself in centre defensive midfield; a position where he may do well.
Player To Watch: Ryan Bertrand
23-year-old Bertrand has been touted as one for the future for a long time now but now his time has come to break into the first team. He played well for Team GB and has also collected his first England cap. Can play in defence and midfield and with a good left foot could provide good balance for the team.
Prediction: Third
Liverpool
The Reds have been a 'side in transition' for way too long now and they must step up over the next two seasons. Some sections of the Anfield faithful may feel that a title challenge is possible but that is nowhere near a realistic ambition. A top four spot would be a dream first season for Northern Irish manager Brendan Rodgers and they should be there or thereabouts. The summer signings of Fabio Borini, Joe Allen and Oussama Assaidi could be good pieces of business as all are young and have done well in their professional careers so far. Suarez, Gerrard, Reina and Agger (if they can keep him) will be as important as ever if Liverpool are to be successful.
The defence is quite good but Reina made some uncharacteristic errors last season that he will be looking to eradicate. The midfield is decent as well and Lucas' return will be a huge boost, as will the signing of promising centre midfielder Allen. Joe Cole will hoping to prove his critics wrong as he comes back from a season-long loan at Lille but may still be off Premier League pace. Suarez is the star player but can not afford to be as wasteful in front of goal as he was last term and the same applies for the heavily criticised Andy Carroll.
Player To Watch: Raheem Sterling
17-year-old winger Raheem Sterling has been tipped by many to be a future Anfield star and he might be ready to fill this role already. He scored a great goal in the Red's last pre-season friendly against Bayer Leverkusen and made his league debut as a substitute last season against Wigan. He also scored five goals against Southend United in an FA Youth Cup game.
Prediction: Fourth/Fifth
Tottenham Hotspur
Spurs had a great start to last season's league campaign but fell away after Christmas as they finished fourth. On the face of it that was an excellent season but at one point it seemed as though third was sewn up and that the title was a real possibility. However as Chelsea won the Champions League they failed to qualify for the Champions League and Harry Redknapp lost his job as manager. Former Chelsea boss Andre Villas-Boas has since taken over as boss and brought in Gylfi Sigurdsson and Jan Vertonghen while Luka Modric looks set to leave for £30 million to Real Madrid.
The North London club have been very good for the last few years and will be hoping for a top-four spot for the third time in the last four seasons. There is not much goal scoring prowess however with Jermain Defoe likely to be their main striker unless they make another signing. Gareth Bale has set the Premier League on fire since he broke into the starting eleven and will be vital to his team as will Rafael van der Vaart. Their defence could be a bit shaky though after the retirement of Ledley King coupled with the injuries sustained by Michael Dawson and William Gallas.
The midfield is strong but they may struggle from a lack of clinical finishing up front. The season holds many questions but a top four challenge should be just around the corner.
Player To Watch: Jake Livermore
Livermore featured 38 times last season and scored once. This time the Spurs man will be hoping for more appearances and could find himself in the fore-front of Tottenham's campaign.
Prediction: Sixth
Posted by JedGore
at 8:25 pm
2 comments:

Labels: Arsenal, Chelsea, di Matteo, Everton FC, Ferguson, Football, Liverpool, Manchester City, Manchester United, Mancini, Newcastle United, Pardew, Premier League, Rodgers, Tottenham Hotspur, Villas-Boas, Wenger